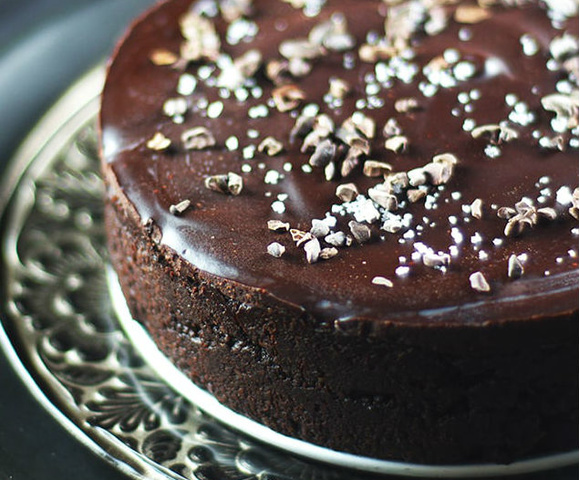 Ingredients:
1/2 cup cocoa powder
1/2 cup carob
1/2 cup finely ground almonds
1/3 cup agave syrup
1/4 cup coconut or cacao butter
Pinch of sea salt
For the chocolate filling
2 cups cocoa powder
1.5 cups agave syrup
1 cup coconut or cacao butter
1 tablespoon Vanilla extract (optional)
1 tablespoon Lucuma Powder (optional)
1 teaspoon Maca Powder (optional)
For garnishing: Strawberries, raspberries, or oranges for garnishing.
Crust
Combine and mix all ingredients. You can best do this by hand or standing mixer. It should have a dough-like consistency. Press the dough evenly into a 7 inch tart pan. (A removable bottom, a plastic cling wrap lining or one of these new flexible silicon pans are easiest.) Chill in the fridge for at least an hour if you have time.
Filling
Blend all the ingredients in a blender until very smooth. Poor into the cake crust. Put the cake back in the fridge and chill for at least another hour.
Before serving, decorate the cake with the berries, orange or other nice looking fruit.
Enjoy, this is the best raw food desert ever!