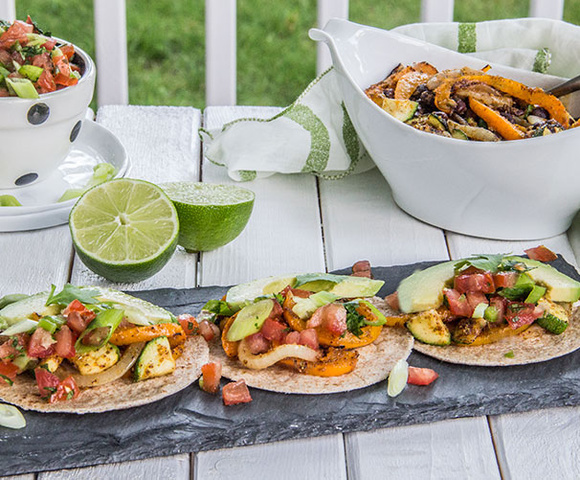 Ingredients:
For the Grilled Vegetable and Black Bean Fajitas:

1 onion, thinly sliced
1 bell pepper, thinly sliced
1 organic zucchini, halved lengthwise and thinly sliced
16 ounces organic black beans, drained and thoroughly rinsed
1½ teaspoons onion powder
1½ teaspoons dried oregano
¾ teaspoons cumin
¾ teaspoons chili powder
3 tablespoons extra virgin olive oil
Fresh Homemade Salsa (recipe below)
1 avocado, pitted, peeled, and sliced
12 organic whole wheat tortillas
Salt


For the Fresh Homemade Salsa:
1 large tomato, diced
¼ cup green onions (scallions), chopped
½ jalapeño, seeded and finely diced
3 tablespoons fresh cilantro, chopped
1 lime, freshly squeezed
Salt
For the Grilled Vegetable and Black Bean Fajitas:
Prepare the grill for 375 degrees F.
Layer first the onion, then the bell pepper, and finally the zucchini on a grill vegetable basket. Season with salt. Cook for about 8 minutes, or until vegetables are softened. Add the black beans to the basket, season with additional salt, and cook about 2 minutes more, or until beans are heated through.
Meanwhile, as vegetables are cooking, prepare the spice mixture. To a large mixing bowl, add onion powder, oregano, cumin, and chili powder. Season with a pinch of salt. Slowly whisk in extra virgin olive oil until well combined.
Immediately after removing the basket from the grill, pour the still-hot vegetables and beans into the mixing bowl. Stir and combine until the seasonings have melted into the vegetables and everything is well coated with oil.
Spoon the vegetable-black bean mixture onto whole wheat tortillas. Top with heaping spoonfuls of Fresh Homemade Salsa (recipe below) and slices of avocado. Roll up tortillas, and serve.
For the Fresh Homemade Salsa:
To a mixing bowl, add the tomato, green onion, jalapeño, and cilantro. Add the lime juice and season with salt. Stir until all ingredients are well combined.
Storage: refrigerate salsa in a covered, airtight container.