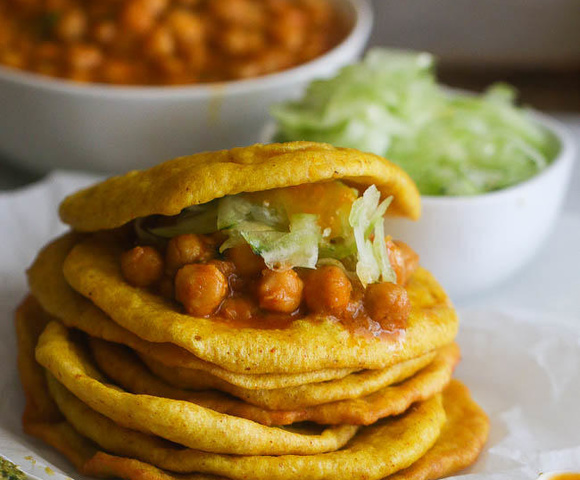 Ingredients:
Spicy Flat bread (Bara)
3

cups

flour (half spelt and other half amaranth)

1

teaspoon

cumin

½-1

teaspoon

turmeric

2

teaspoons

active or dry yeast

1/2

teaspoons

salt

½

teaspoon

white pepper

1 ¼

cup

warm water or more

adjust water to form soft dough

1

Tablespoon

sugar
---
Curry chickpeas
¼ - 1/2

cup

grapeseed oil

2 -3

tablespoon

curry powder

1

large onion diced




1

teaspoon

ground allspice

1

teaspoon

ground nutmeg spice

1½

teaspoon

smoked paprika

2

teaspoons

fresh or dried thyme

1

teaspoon

cumin spice

1

teaspoon

white pepper

2

cans of chickpeas

drained




2

cups

of vegetable broth

½-1

teaspoon

cayenne pepper

optional

1

scotch bonnet or habanero pepper

2

green onions chopped

2

tablespoons

or more chopped parsley

Salt to taste
---
Bara (Spicy Flat bread)
In a large bowl combine flour, yeast, salt sugar cumin, turmeric, and yeast. Thoroughly mix.

Then add warm water a little at a time until you get to desired consistency – soft- ball. If dough is too stick some oil to prevent dough from sticking to your hands. Knead for about a minute or 2

Place dough in an oiled bowl. Set it in a warm area and let it rise and double in size -approximately 1- 2 hours. Punch down.

Divide in to about 18 or more pieces. These are medium sizes you may make it smaller and divide into walnut sizes.

Place each piece on rolling board or palm of your hand, if dough is slightly sticky oil both sides with oil roll out flat. Set aside or place directly in frying pan. Repeat with the remainder of the dough

In a large, sauce pan pour grapeseed oil, until it is at place on medium heat until oil is about 350 degrees.

Fry for about 30 seconds or less on each side. B ara should puff up.

Use a large spoon or something like that to take it out of the oil. I usually place them on napkins right away to soak up some of the excess oil.

Serve doubles by placing one Bara on a plate, spooning one tablespoon of the chickpea filling on it, topping desired condiments. You may top with an additional bara.
Curry Chickpeas
Heat up large sauce-pan with oil, and add onions, thyme, cumin spice, all spice, smoked paprika, nutmeg and curry powder, stir occasionally for about 2-3 minutes until onions is translucent.

Add stock / water if necessary to prevent any burns.

Next add chickpeas, scotch bonnet pepper, green onion and broth. Bring to a boil and let it simmer until sauce thickens, it might take about 20 minutes or more. Throw in some parsley, adjust for salt, pepper and stew consistency.
Recipe Notes
I used yeast as always because it imparts an additional boost of flavor, for a quicker version go with baking powder.