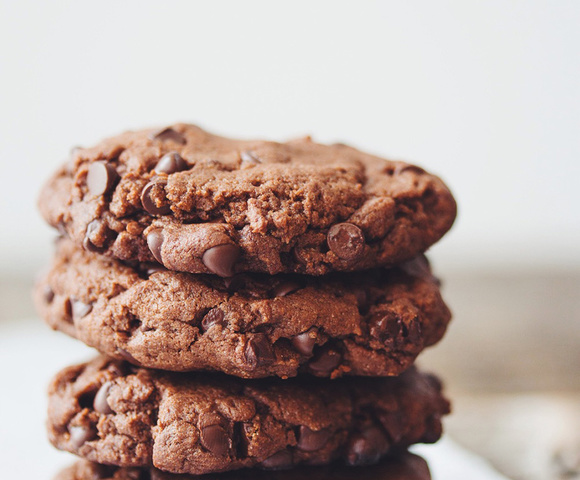 Ingredients:

2 1/4 cups spelt flour (or whole wheat flour)
1/2 cup unsweetened dutch process cocoa
1 tsp baking soda
1/2 tsp salt
1 1/4 cups granulated sugar
1 cups earth balance butter
2 tsp pure vanilla extract
1 Tbsp unsulfured molasses
1/4 cup non-dairy milk
1 cup vegan chocolate chips
Directions:
1. Pre-heat the oven to 350°F.
2. Sift together flour, cocoa, salt, baking soda and set aside.
3. In a separate bowl cream together earth balance, sugar, vanilla, and molasses until fluffy. Then add in non-dairy milk and mix until well combined.
4. Add your wet ingredients to the dry ingredients and mix well. Stir in chocolate chips.
5. Scoop 1/4 cup of cookie dough and roll it into a ball, then flatten the cookie slightly with your hand onto un-greased cookie sheets.
6. Bake for 10 minutes.
7. Cool cookies on baking sheet for about 5 minutes or so and then transfer to a cooling rack for another 10-15 minutes.