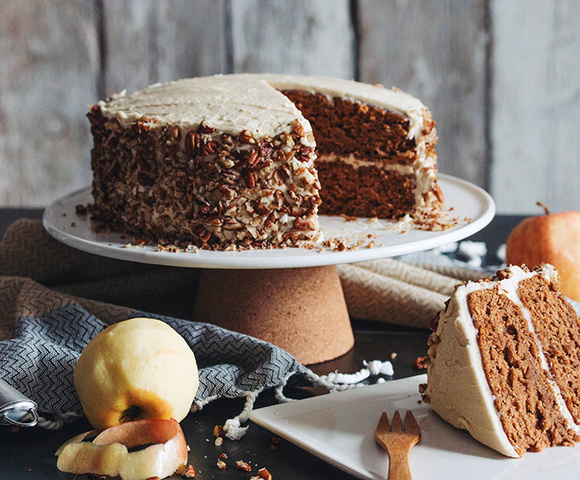 Ingredients:

Apple Spice Cake:
1 ¼ cup soy-milk (room temperature)
2 tsp apple cider vinegar
2 ½ cups spelt flour
1 tsp baking powder
1 tsp baking soda
2 tsp cinnamon
½ tsp all-spice
½ tsp ginger
½ tsp sea salt
1 cup shredded apple
1/3 cup coconut oil (soft at room temperature)
1 cup packed brown sugar
½ Tbsp unsulphured blackstrap molasses
2 tsp vanilla extract
¾ cup pecans, roughly chopped
Maple Buttercream Frosting:
3 cups powdered sugar
8 Tbsp vegan butter or margarine (room temperature)
6 tablespoons maple syrup
Directions:
Pre-heat oven to 350°
In small mixing bowl whisk together the soy-milk and apple cider vinegar and set aside.
In a large mixing bowl combine flour, baking powder, baking soda, cinnamon, all-spice, ginger, and sea salt.
In a third bowl beat together coconut oil and brown sugar with a hand mixer until fluffy. Then beat in molasses, vanilla extract, and soy-milk and vinegar mixture until smooth.
Add the liquid ingredients and shredded apple to the dry ingredients. Fold the batter until it's just combined, ensuring not to over mix it.
Lightly oil 2 x 7 ¼" cake pans with a little bit of coconut oil. You can also bake one at a time if you only have 1 pan.
Divide the batter evenly between the cake pans. Spread out the batter so it's even and to the edge of the pan.
Bake for 18-20 minutes on the center rack. Cake is done when a toothpick comes out of the center of the cake clean.
Transfer cakes out of the pans onto wire racks and allow to cool completely before frosting.
To make the frosting beat together vegan butter, powdered sugar, and maple syrup until fluffy and smooth.
Place one cake bottom side down on your serving plate and spread frosting evenly with a spatula across the entire top of the cake. Place the other cake, bottom side down, on top of the frosting. Use remaining frosting to cover the entire cake.
Using the palm of your hands gently press small handfuls of roughly chopped pecans along the entire side of the cake until well coated.