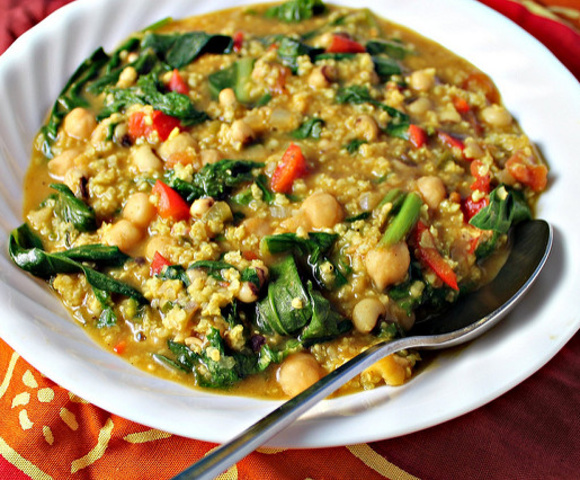 Ingredients:
1 Can Chickpeas
1 Cup cooked quinoa (millet or wild/black rice can be use)
2 Tbsp Coconut Oil (can sub vegetable broth to make this an oil free recipe)
1 medium red bell pepper, chopped
1 habanero/scotch bonnet pepper, seeded and finely chopped
2 stalk of green onion, finely chopped
4 cups vegetable broth
2 tomatoes, chopped
1 tbsp curry powder
1 tsp salt & pepper to taste
1 lb mixed greens - kale/collards/spinach
1 can light coconut milk
PREPARATION:
Heat oil in a medium stockpot over medium heat. Add onion, bell pepper, and habanero/scotch bonnet pepper and cook, stirring, until softened, about 5 minutes.
Add green onion and cook, stirring constantly, about 1 minute.
Add broth, chickpeas, tomatoes, curry powder, salt and black pepper. Bring to a boil over high heat.
Reduce the heat and simmer gently, uncovered, stirring occasionally, about 10 minutes. Add the greens. Stir and cover until wilted
Add the coconut milk and quinoa and cook, stirring occasionally, until heated through, about 4 minutes. Add salt, pepper and curry powder to taste, if needed. Serve warm.
Enjoy!