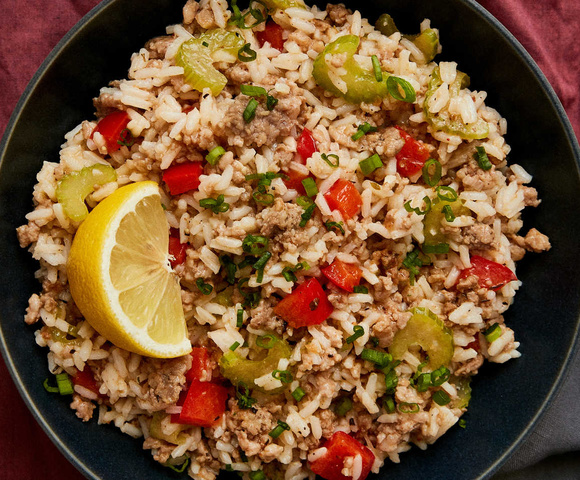 Ingredients:
1 pound ground beef or turkey or jackfruit
1 yellow onion, chopped
1 green bell pepper, chopped
1 red bell pepper, chopped
2 teaspoons beef or vegetable bouillon granules
1/2 teaspoon salt
1/2 teaspoon seasoned salt
1/2 teaspoon ground black pepper
2 cups water
1 cup uncooked jasmine or balsamic or brown or black (will talk longer to cook) rice

Heat a large skillet over medium-high heat and stir in the choice of meat, onion, green and red peppers, bullion, salt, seasoned salt, and pepper. Cook and stir until the beef is crumbly, evenly browned, and no longer pink. Drain and discard any excess grease. Stir in the water and rice. Bring to a boil over high heat, then reduce heat to medium-low, cover, and simmer until the rice is tender, and the liquid has been absorbed, 20 to 25 minutes.